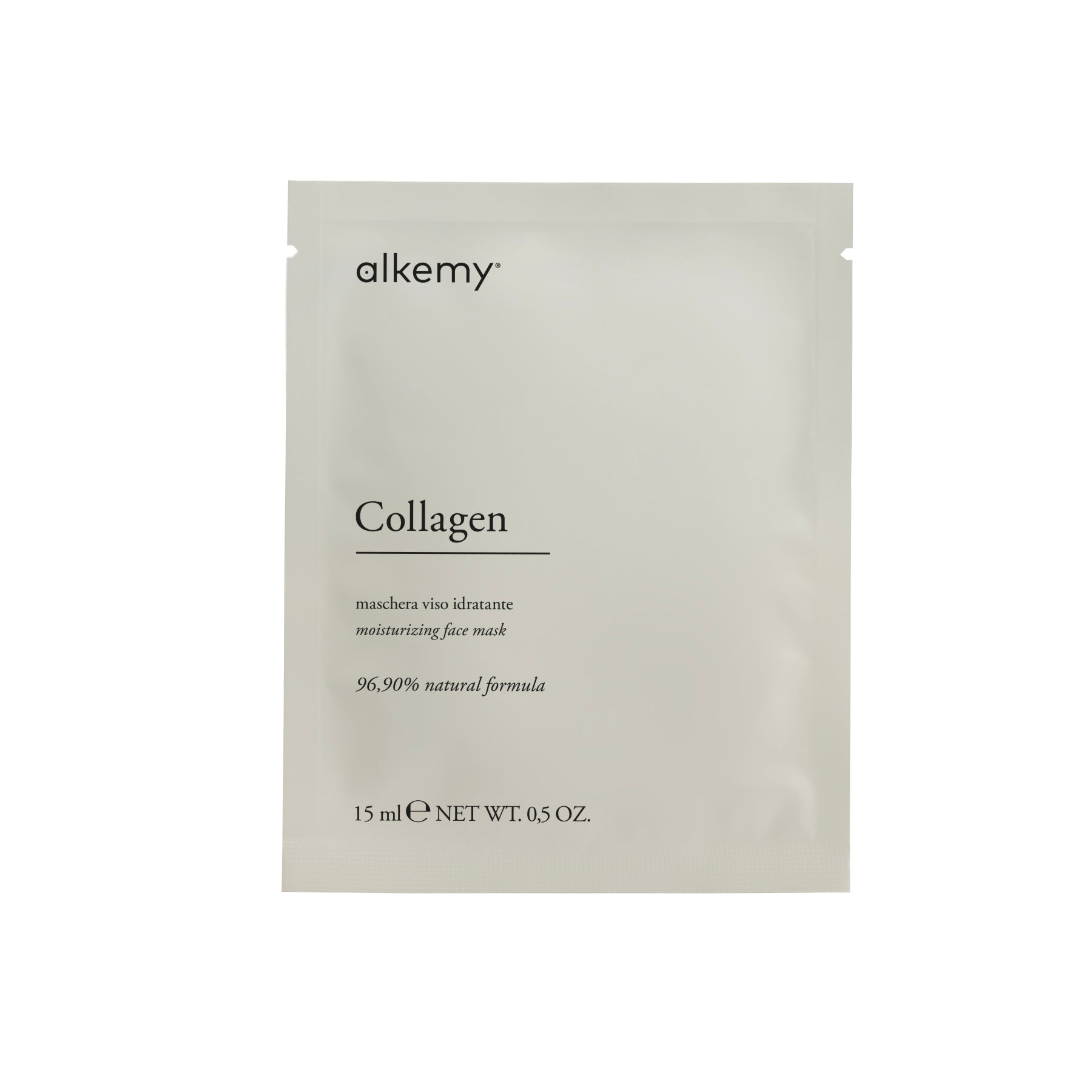 Goes with:
96,90% natural formula
100% natural cellulose face mask based on marine collagen, active ingredient ideal for the first signs of aging, wrinkles and sagging skin. It helps to smooth the skin giving it firmness, tone and elasticity.
15 ml
How to use:
Press the package lightly before opening it to distribute the product.
Apply the mask on clean and dry face, leave it on for 15-20 minutes.
Remove the mask and rinse with water.
Some slight variation in color does not represent alteration of the product but is an indication of its naturalness. Keep out of reach of children. Keep in a cold and dry place. Avoid contact with eyes.
Aqua (Water), Polyvinyl Alcohol, Soluble Collagen, Phenoxyethanol, Benzyl Alcohol, Peg-40 Hydrogenated Castor Oil, Ethylhexylglycerin, Parlum (Fragrance), Hexyl Cinnamal, Limonene, Citronellol, Geranio!, Linalool, Citral.
FAQ
What is the right order for my skincare routine?
1. Cleanser to clean the skin
2. Exfoliant to remove impurities
3. Toner to balance skin pH
4. Serum to hydrate
5. Cream to even out
I have a sensitive skin that tends to irritate, can I use your products?
Our products are suitable for every skin type, even the most sensitive, fragile and delicate ones, since dermatologically tested and conceived to maintain your skin balance.
Which is the must-have product for my skincare routine?
Face serums are the must-haves of skincare routine! Made with a high concentration of active ingredients and excellent raw materials, they are recommended after cleansing and before the cream to boost the effects.
Why choose us?
Made in Italy
Made in Turin, our preparations are dermatologically tested, allergen-free and the packaging is made of recycled and recyclable materials.
Secure payments
We use all the main certified payment methods to guarantee total security for your purchases.
Fast shipping
We rely on the best shipping services to deliver alkemy to your home.
Customer support
Do you have any concerns or questions? Our support service is here to help, whether via our convenient chat or via email.